Awards & Accolades
Photography awards, like most of us, come in different shapes and sizes. Some are singular, and some are given out en masse. We've created this to help give some perspective about where we've been as we look forward to where we are going.
Print Competition Overview
Every professional print competition has its own unique set of definitions and criteria. To understand scoring ranges and what the judges are looking for, we've put together a simple guide.There is a significant difference between a print competition and a photo contest.
Typically, people who are fans of photography, but not necessarily photographers themselves judge these contests. The online judging can involve popularity voting like People's Choice and other clickbait often spreading on social media.
The majority of contests are digital entry only, meaning the photographer never has to demonstrate that he or she can connect the dots to the finished print. The history of printing is an art form solely unto itself.It's one thing to take great pictures and make them look good on your computer screen. However, professional photographers take it further to the final step of making actual prints.
Growing in our craft: Mind, Body, and Soul
Early in his career, my father David Edmonson experienced rapid success in the world of professional photography, specifically as a commercial photographer. Feeling disappointment after winning 3 Major awards in one year and only winning 2 the following, David realized his heart and attitude weren't in the right place during the late 1970's and early1980's. He stopped entering competitions on his own,so his clients did it for him.
Throughout the 1980's, 1990's and to this day his clients in the magazine and publishing world have entered his work. He stopped keeping tabs after the awards passed 100.
For him, awards were not his focus, and ironically they still aren't to this very day.
Lunch in 2006 with a fellow photographer brought a shift in our thinking toward print competition. Our colleague suggested, "What if you weren't competing to win awards? What if you entered to learn and grow?" That premise aligned with our hearts and our goals/concepts, and so we started entering again.
Ironically, in the first significant competition that we joined, David won the Grand Award in the Commercial Division at the 2007 Wedding & Portrait Photographers International (WPPI) 16x20 Annual. At the awards that night, we met a fellow Dallas professional photographer who invited us not just to get involved at the international level, but also to connect with our local DFW photography community.
Once we returned, we joined the Dallas Professional Photographers Association (DPPA) and started growing as members. We began entering the print competition on the local level, attending the monthly meetings and learning from the speakers that presented. At the time, their monthly print competition was particularly challenging to compete in due to an abundance of established world class talent. It was those relationships that transformed us from competitors to advocates and helped push us to deliver our best work regularly each month.
Concurrent with that growth was the shift in the types of Dallas brides and grooms we started attracting. Dallas wedding planners began to take notice as well, as our growing refinement unfolded further. Our industry started to recognize us as leaders in our field, and other wedding photographers began following our work.
By 2009, we felt ready to enter the Southwest Professional Photographers Association (SWPPA), our regional Professional Photographers of America (PPA) district. While we were out shooting, a phone call suggested we really should come to the awards night, and so we headed over right after that shoot. You could tell we were not prepared to attend an awards banquet. I was wearing a shirt and jeans, and everyone else was in proper attire for the occasion.
Honored for the Highest Overall Print Case for a First Time Entrant, which is the cumulative score for the 4 prints you could enter, I also won the individual Best of Wedding Award for one of my bridal portraits as well as a Kodak Gallery Award. This mountaintop moment gave me a lot of encouragement to persevere through the next series of valleys and mountains we still had to climb.
2010 was a year when we were searching to find our unique style and voice. It's reflected in our 120+ entries in WPPI that year that scored 80 or above. There were a handful of Awards, Fuji Masterpiece, Kodak Gallery and Best Overall Portrait, etc. It was also the year I was getting married, and addressing the natural distractions and adjustments that occur when you start caring more about someone else than your career.
Then 2011 came, but we felt like we were still searching. In sports and life, there is a metaphor called "grinding." It's called pushing yourself each and every day to be better than you were the day before. It is about putting in the work and learning and growing artistically in your craft.
Our efforts paid off in 2012 and delivered a moment where things certainly started to click for both David & me. Our posing and lighting became more elegant and refined, and our photography began exhibiting more impact. Dad won the Grand Prize from Rangefinder magazine for one of his gorgeous bridal portraits. It was also the first time we were named Top 10 Photographers in Texas by the Texas Professional Photographers Association (TPPA) the state affiliate of PPA.
The pace of awards then started to quicken with First and Third place wins at WPPI, Kodak Gallery Awards and continuing success at DPPA with Best Portrait Overall and Best Wedding Overall wins. We also earned Gold Photographer of the Year and Silver Photographer of the Year honors in PPA's International Print Competition (IPC).
We started off 2013 with a plan to work more on our storytelling. One of these avenues was to start entering wedding albums because they show more than just a single image. David became President of DPPA, and as anyone who ever has been a President of anything knows, many additional responsibilities appeared. Some personal issues also came up that Spring, leading us to shift our priorities back a bit to take more care of our family. That was a real time of recovery for us. We had been pushing ourselves hard to get better and learned that sometimes it helps to give yourself an opportunity to just "percolate" a bit.
That year we went on to win 3rd place in the Multi-maker wedding album category at WPPI. Having earned our Master of Photography degrees from PPA, David won the Best Overall Wedding Image by a Master and many other awards. That success motivated us while our time spent reflecting helped us to refocus.
Dad and I looked at each other when we were setting goals for 2014. We had been judging on the international level for several years now, and that effort had given us a broader view of the difference between above average work and excellent. In our goals, we thus outlined getting more involved with other worldwide organizations outside our current ones so as to further broaden our perspectives. We also thought it would be great fun if we could do many of these things together. You could say we experienced a dramatic shift in our thinking.
2014 was the year we made history for ourselves and within the photography community. I scored my first individual award at WPPI with a black and white portrait of a groom that won 3rd place in the Bride or Groom Alone category. It's a highly competitive category as you might imagine with entries from all over the world. That led to an incredible run where we both won PPA's Diamond Photographer of the Year, their highest accolade, and received a Grand Imaging Award nomination for the third time.
Following the goals we had already outlined, we entered the Australian Institute of Professional Photography (AIPP) Awards as international competitors. I was honored by winning the International Photographer of the Year for the top overseas entrant.
Dad won the American Society of Photographers (ASP) State Elite Award along with the highest scoring print case and top overall scoring print. My most memorable highlight was seeing him receive WPPI's Lifetime Achievement Award.
We carried that great momentum into 2015, trading places, however, as this time David won the AIPP's Overseas Photographer of the Year. It was a newly renamed award for the same category I had won the year before. In the history of the AIPP, this award had never been won in two concurrent years by members of the same family or studio. He had an incredible run through WPPI with top performing prints and some 1st through 3rd place wins in multiple categories.
It also was the year when I earned my first 1st place award in In-Camera Artistry at WPPI. We then decided to skip participating in TPPA and IPC to focus our attention on a new area of interest.
In 2016, we want to pursue our Fellowships, as they represent a body of work vs. a single print entry. In many ways, it is similar to our goal to start entering wedding albums for their story-telling aspects. We have to wait one more year, however, before we can submit to the ASP, but we were eligible for Society of Wedding & Portrait Photographers (SWPP) in London.
In our first competition of the year, at the SWPP 20x16, David won 1st place in the Portrait Classical sub-category, was the Overall Portrait category winner, and the Overall Winner of 20x16 competition with a perfect 100 scoring print. Appropriately, this success overshadowed my 3rd place win in the Nouveau category. We both passed our Fellowship panels with unanimous decisions.
What the future holds for us, we don't fully know. When we look back, it's hard to believe that we've won 350 awards of excellence within WPPI alone. We certainly don't compete with the intention of winning. We do it because we see the value in what doing so teaches us and in the accountability, it provides our work. The biggest lesson we've learned along the way is the importance of relationships. Awards recognize your skills, but it's hard work, dedication, and education that get you there.
It's those valuable lessons that we also carry with us whenever we are capturing a wedding day.
We are immensely thankful and grateful to the many wonderful judges who have shared their wisdom with us. Our hope is that our path will serve as an inspiration to others and show them what is possible when you pursue excellence, no matter what your field may be.
What Judges Look For
When evaluating a print in competition, what guides these judges in making their determination? While there are minor differences between organizations, typically they all agree on the importance of Impact. How do does the image make you feel the first time you see it?
Other areas that are commonly considered are Technical Quality, Creativity, Style, Composition, Presentation, Color Balance or Harmony, Lighting, Posing, Expressions, Technique, and Storytelling.
Each worldwide organization chooses from these common themes to establish their own standards. Most of the time, the judges are selected from a pool of qualified candidates or complete an extended schooling and evaluation program before being invited to judge.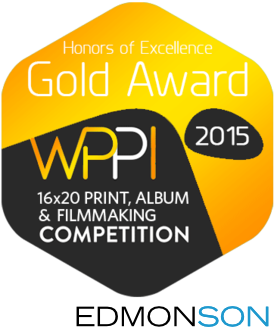 Understanding the Scoring Ranges
While this scale is not specific to one particular competition, it is an excellent overview of the typical scoring ranges likely seen at most major organizations. They guide the judges and reflect in their scores. Most competition final scores are either an average of the 5 judges on a panel or a Majority vote.
Here is the guide, starting with a numeric score, followed by the award type, a descriptive adjective and then finally a short statement to provide further clarity when evaluating a print. Every print that is above average falls into one of these categories.
100 - Platinum Award - Supreme - A benchmark exhibiting the best possible use of all skills, creativity, and uniqueness.
95-99 - Gold Distinction - Exceptional - Approaches the highest level of imagination, creativity, and technique.
90-94 - Gold - Outstanding - Exhibits outstanding skills in all areas and originality.
85-89 - Silver Distinction - Excellent - Excellent use of imagination, competence, and technique.
80-84 - Silver - Above Average - Above average skills and techniques in most areas.
Major Professional Photography Organizations
The Societies Of Wedding & Portrait Photographer (SWPP)
Founded in 1988, SWPPeventually merged with the British Professional Photographers Association to become the largest photographic association in Europe. The live judging event awards 1st, 2nd, and 3rd places in each subcategory. The top winners of each sub-category are then re-judged for overall category winners. A final judging of Overall Category Winners determines the Overall Winner in the 20x16, which David won.
The Australian Institute of Professional Photography (AIPP)
APPA is short for the Australian Professional Photography Awards held yearly. It is Australia's pre-eminent professional photography competition. Professional photographers both at home and around the world compete in many categories. There are no 1st, 2nd or 3rd place trophies only category winners. The prize is the coveted title of Photographer of the Year for which there is only 1 winner. Members accrue "award points" by scoring well to move toward their potential achievement of Associate, Master, and Grand Master status within the AIPP. The competition is a live judging event that is streamed around the world.
Wedding & Portrait Photographers International (WPPI)
WPPI began in 1978 with a goal to serve wedding photographers who were then considered a neglected segment of the photography industry. The revamping of the WPPI Print Competition in 2013 did away with the previous Accolades of Excellence program and replaced it with Honors of Excellence. There are 3 competitions held throughout the year, a 1st Half and 2nd Half competition along with the 16x20 Annual Competition that is held in Las Vegas. The top four scoring entries for each yearly cycle count toward your Title or Distinction.
During the Annual competition, categories with multiple sub-categories are eligible for Grand Awards. Live judging is held in Las Vegas each year with master photographers coming from across the globe and serving as judges.
Similar to the AIPP system, Gold with Distinctions scores 95 or higher, Gold awards are 90-94, Silver with Distinction are 85-89, Silver awards are 80-84. The top 5 scoring prints in each sub-category and category are re-judged to determine the 1st, 2nd, and 3rd places.
Professional Photographers of America (PPA)
Established in 1869, PPA re-formed in 1880 to become the largest photography organization in the U.S.A.. Each year they host the International Print Competition (IPC) in which there are two possible outcomes. A merit print is, generally speaking, Above Average work. Loan prints are Excellent, Superior, or Outstanding work and represent the best of the best.
Each year PPA allows for a maximum of 4 prints being entered into IPC. First a print is evaluated for Merit level and then the Merit prints are reevaluated to the higher Loan standard. If all four prints are deemed both Merit and Loan status, you earn the Diamond Photographer of the Year Accolade. Generally speaking, a typical year results in about 10 or so Diamond Photographers from the 5,000+ print entries.
Other Awards
Here are some of the other awards we have won from local, state, regional and online organizations.
SLR Lounge
SLR Lounge named Luke Edmonson as one of their top 100 wedding photographers in the U.S. and Canada. Their review looked at Uniqueness and Creativity, Artistry and Vision, Timing and Emotion Capture as well as Consistency.
Dallas PPA (DPPA)
Founded in 1954, the Dallas Professional Photographers Association's (DPPA) serves the needs of DFW photographers. As Presidents, David and I have served 3 years starting in 2013 and have guided DPPA to become the largest local guild in America.
Chronological list of awards
The following is a list of awards received from various international, national, regional, state and local professional photography organizations.
SWPP
2016 Winner Overall 20x16 Competition, Winner Portrait Overall, 1st Place - Portrait Classical, 3rd Place Nouveau category
AIPP
2015 International Photographer of the Year plus 5 Gold Awards
2014 International Photographer of the Year plus 2 Silver Distinctions
WPPI
2016 16x20 First Place Group scored 99 Gold with Distinction, In-Camera Artistry scored 91 Gold, 2nd Place Portrait Individual scored 95 Gold Distinction, First Half Third Place Illustrative scored 84 Silver, 2nd Half First Place Group/Families scored 90 Gold
2015 Lifetime Achievement Award,Second Half scored: 91- First Place - Group / Families Gold, Second Half scored: 88 - First Place - Illustrative Silver Distinction, Second Half scored: 87 - Second Place - Children Silver Distinction, Second Half scored: 87 - Bride or Groom Alone: Non-Wedding Day, Second Half scored: 85 - Third Place - Bride or Groom Alone: Non-Wedding Day Silver Distinction, 4 additional entries scored Silver, 16x20 scored: 90 - Gold, 16x20 scored: 88 - Silver Distinction, 16x20 scored: 86 - Silver Distinction, 16x20 scored: 86 - Silver Distinction, 16x20 scored: 85 - Silver Distinction, 16x20 scored: 85 - Silver Distinction
2014 First Half scored: 85 - Individual Silver Distinction plus 13 additional entries scored Silver; 2014:16x20 scored 86 - Third Place Album Wedding (multiple photographers or studio) Silver Distinction,16x20 scored 85 - Third Place Bride or Groom Alone: Wedding Day Silver Distinction, 16x20 scored 85 - Commercial Silver Distinction, 16x20 scored 86 - Commercial Silver Distinction, 16x20 scored 84 - Third Place Wedding Details Silver, 11 additional entries scored Silver
2013 16x20 scored 95 - Third Place Group Gold Distinction, 16x20 scored 92 - First Place High School Senior Gold, First Half scored 85 - Group Silver Distinction,16x20 scored 85 - Bridal Party Silver Distinction, 16x20 scored 85 - Group Silver Distinction, 16x20 scored 85 - High School Senior Silver Distinction, 16x20 scored 85 - Fashion Silver Distinction, 16x20 scored 85 - Individual Silver Distinction, plus18 additional entries scored Silver
2012 Rangefinder Best Bridal Portrait Grand Prize
2011Second Half scored 82 - Engagement - Third Place plus 12 additional entries scored Silver, 16x20Wedding Album scored 90 - Third Place
2010 First Half scored 87 - Silver Distinction; Second Half scored 86 - Silver Distinction plus 121 additional entries scored Silver, 16x20 scored 88 - Silver Distinction
2009 First Half scored 92 - Gold

,

First Half scored 87 - Silver Distinction, First Half scored 87 - Silver Distinction, Second Half scored 85 - Silver Distinction, Second Half scored 85 - Silver Distinction plus 55 additional entries scored Silver; Second Half scored 92 - Gold, 16x20 scored 88 - Silver Distinction, First Half scored 88 - Silver Distinction, 16x20 scored 88 - Silver Distinction, First Half scored 86 - Silver Distinction, 16x20 scored 85 - Silver Distinction, 16x20 scored 85 - Silver Distinction, First Half scored 85 - Silver Distinction, plus 45 additional entries scored Silver
2008 16x20 Scored 90 - Gold - Grand Award Commercial Division, 16x20 Scored 86 - Silver Distinction, 16x20 Scored 85 - Silver Distinction, 16x20 Scored 86 - Silver Distinction, plus 12 additional entries scored Silver
PPA
2016 Diamond Photographer of the Year - GIA Nominees
2015 Diamond Photographers of the Year both David & Luke - GIA Nominees
2014 Gold Photographer of the Year, Silver Photographer of the Year, Multi-maker album GIA Nominee
DPPA
2016: Lifetime Achievement Award - Both David & Luke
2016 Black and White Winner, Best Portrait Overall
2015 Overall Portrait Winner, Master Photographer of The Year
2014 Photographer of the Year, Best Portrait Overall, Best Wedding Overall
2013 Best Portrait Overall, Best Wedding Overall
2011 Best Portrait Overall
2010 Best Portrait Overall
2009 Best Portrait Overall, Best Folio Overall
TPPA
2015 Best Portrait of a Man, Best Classical Image, Fuji Masterpiece Award, Best Bridal Portrait, Distinguished Print Ribbon, Best Portrait of a Woman, Best of Show, Highest Scoring Print Case, ASP State Elite Award, Best Portrait of a Group, Top 10 Photographers in Texas
2014 Best Overall Wedding Image by a Master, Best Multi-maker Wedding Album, Best Portrait of a Child, Distinguished Print Ribbons, Top 10 Photographers in Texas
2013 Best Bridal Portrait, Best Overall Portrait in General Exhibit, Best Wedding Image in General Exhibit, Kodak Gallery Award, Distinguished Print Ribbon, Top 10 Photographers in Texax; 2010 Kodak Gallery Award
SWPPA
2016 Overall Winner, Canon Par Excellence Award
2010 First Time Entrant High Print Case, Kodak Gallery Award, Best of Wedding Award, Distinguished Ribbon Wedding, Judges Choice Ribbon
Copyright 2002-2017 David & Luke Edmonson All Rights Reserved.
All photographs and content appearing on this site are the property of the Edmonson's. They are protected by U.S. Copyright Laws, and are not to be downloaded or reproduced in any way without our written permission. You may share photos using the tools provided in our galleries.

Edmonson Wedding Photography is based out the Dallas - Ft. Worth Metroplex, Texas.
Check Availability | 7628 Brownley Place, Plano, TX 75025 | (972) 208-0215